Pioneer Days
Traveling to Iowa in the 1850s took a lot of courage.  There were many risks associated with a building a business on a newly developing
frontier. When Mr Kohl brought his family to the Anamosa, Iowa community to start up a brewery he had no idea what he was up against. Iowa was at that time was a stronghold of the early Republican based prohibitionist party. Add to that, Anamosa was home of Colonel Shaw one of that party's  top leaders.  Colonel Shaw was a strong proponent of Iowa prohibition and had to be upset that the brewery was only 4 miles from his mansion.
Iowa Prohibition
Alcohol production and sales was banned or restricted on and off during the entire time the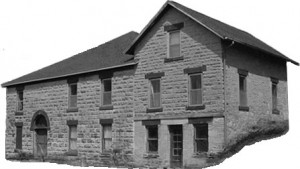 brewery was trying to operate.  In 1854 a law was passed banning all alcohol, when they found they could not enforce it, in 1858 an agreement was made allow beer and wine made from fruit and grain.  Called the Minnie Creek brewery at the time in 1858 when this law passed, they produced an ale form of beer.  As permitted by the new law, the brewery produced alcohol beverages in the home town of one of Iowa's most active opponents. In 1859 Minnie Creek brewery's founder and builder went busted.  Mr. Rick and his associates took over after the Sheriff's sale and tried again.  Rick decided that bigger would be better and enlarged the brewery in 1872.  The large addition was emblazoned with his name over the large street side wagon entrance.  From what remaining records say, he managed almost two decades of successful brewery operation before the political Iowa prohibition war of 1890 ended it.
The End
The Iowa prohibition laws continued to come and go, this is likely the reason why the brewery shows two separate sheriff sales on its abstract.  They went busted due to Government regulations.  We believe that Rick's Brewery closed down for the final time right at the peak of the 1890s prohibitionist fervor when it went busted the second time. Read an excellent Iowa prohibition article: Tracing beer's history in Iowa: Alcohol was banned years before Prohibition by Jonathan turner.